12/4/08
Beijing Day 3 --Thursday
It was a huge day in BJ, we did:
Tianamen Square and Forbidden City
Silk Factory
Hutong Tour and lunch at local family's house
Pearl Market
Peking Duck dinner
Chinese Acrobat performance
Tianamen Square/Forbidden City: OK, picture it about 28-30F and windy!!!! OMG, it was so cold. The sun was shining and as long as the wind did not blow my combination of clothing: jeans, long sleeved t-shirt, hooded sweatshirt, coat, scarf (thanks to Johann for that suggestion) and gloves kept me moderately thawed. But, when the wind blew, all bets were off. Bobby read on the internet that morning that with the wind chill the temp would be 13F! I know for some people who live where there's cold weather that may not be that big a deal but for us, where "cold" is defined as anything below 60F and "freezing" is defined as anything below maybe 45F, 13F was really cold.
Anyway, we fought our way through the vendors in the square who wanted so badly to sell Bobby a communist soldier looking hat to warm his nearly hairless head--he later flipped up his hood and the efforts slowed a little. I asked our guide, Cecelia, why Mao is honored and respected. I told her that from western perspective, Mao's rule was quite hard on China and its people. She explained that it was only the Cultural Revolution that was the bad part of Mao's rule and that the Chinese people revere Mao for the good he did for China including uniting the country and the Chinese people and making the country strong militarily to ward off attacks by foreigners. She said that Mao's rule was 70% good and 30% bad and that the people honor the good and forgive/forget the bad.
The fact that we've had the private tour has allowed us to have many informative discussions with Cecilia about several controversial topics including religion, money, and politics. I believe she has an interesting perspective as a young, educated, and modern BJ woman. The fact that she's been a tour guide for westerners for many years gives her what I am sure is fairly uncommon access to western thinking (if there is such a thing). I've appreciated the opportunity to speak with her and ask her questions about her life, her thoughts, and her political and religious beliefs. She asks us lots of questions as well some of which really surprise me. For instance, she asked us what the US government thought about the fact that China won more gold medals than the US at the last Olympics. I told her I didn't think "the government" had really expressed an opinion. She responded that she'd "heard" that "the US was very upset and that they were planning on doing things to make sure it didn't happen in the future" --truly, I had no idea what she was talking about. Something else that's kind of interesting is that I've mentioned a few times that I was personally very impressed by the Olympics and all the efforts that had been made by China to present them so well. She always responds "thank you" as if I've complimented her personally.
Of course, Tianamen Square is the country's largest public space (maybe the world's, I can't remember for sure). The last time I stood in that space was just about 20 years ago give or take a month-- which was just a few months before the student uprising. What impressed me was that last time, if you had looked across the street you would have seen very little. Now, you see huge, modern buildings in every direction, roads filled with cars, gas and electric buses, taxis, etc and construction equipment at work. To say that BJ has changed is putting it much too mildly, its been transformed.
We took a brisk walk across the square and then through the tunnel that runs to the city formerly known as "Forbidden" --its anything but now. Even with the extreme cold and wind there were hundreds of visitors and tourists streaming into the recently renovated space. The areas that have been redone are absolutely gorgeous! We walked through gate after gate and saw the living quarters for the eunochs, the concubines and, of course, the emperor. Cecelia regaled us with stories of the many emperors and their hundreds (or sometimes thousands) of concubines. Bobby decided he would have enjoyed being an emperor :-) Uh, yeah.
The area in front of the emperor's throne was about 10 people deep and a dozen or so wide. Bobby and I had somewhat of an adventure getting to the front but finally were able to do so to get that all important photo of the golden seat!! Getting out was slightly tougher. One good thing about being at the front of a 200 member camera-wielding mob is that for the first time since we disembarked the tour shuttle that morning, we were warm!!!
Its funny to think that for so many years the Forbidden City was so, you know, forbidden. Now, for a handful of yuan, any Chinese national or foreigner can come on in and ltake a look around. All kidding aside though, the buildings are beautiful. Some of the buildings have been left in their pre-Olympic state which is nice so you can see the contrast. We finished up our tour of the city by taking a photo in front of the "Lover's Tree" --two trees that have grown together and formed somewhat of a heart shape in the garden area behind the emperor's quarters. Cecelia said that there are photos of Pui Yi (spelling??? ) better known as "the last emperor" with his wife and his concubine taken in that same spot! There were many, many couples wanting to take photos there and Cecelia said it might be difficult for us to do so but, we used our newly learned Chinese style assertiveness and made it to the front!! Actually, for all that's been written about the Chinese people and their interpretation of personal space, I have found that people have been exceptionally polite. Yes, the vendors are a little much but other than that, no biggie at all.
Silk Factory: very interesting and short explanation/demonstration of how silk is processed for use in clothing and blankets, etc. The items there were beautiful and expensive, we managed to pass on all.
Hutong Tour and lunch- actually one of the more interesting things we've done including a ride on a pedicab. Our guide "Nancy" was a fascinating young woman who grew up in the very northern part of China just below the border of Russia. She spoke English with an extremely thick accent but very well and was apparently completely self taught. Both she and her older sister were born before 1980 (the year the one child rule was implemented) and her younger brother in 1981. That made him an "illegal child" causing her father, a government employee, to lose his job! Her family was a poor one and she said that they did not value education for girls so, after primary school--which is provided for free by the government-- she was no longer able to attend school but told to get a job instead. It seems she did and then, because she very much wanted to move to the city, learned to speak a little English and then made her way to BJ. She showed us a picture of her daughter, a beautiful little girl about 18 mos or so. She said that when her husband said that he would like to marry her she asked him if he preferred to have a girl child or a boy child. He responded that he would love to have a little girl because then she would look just like Nancy. Good answer, right? She said that if he would have said that he preferred a boy, she would have found herself another boyfriend!!! We loved Nancy.
Nancy lives in the Hutongs where it seems that the living conditions are often pretty rudimentary. Many of the families share a courtyard with 8-10 other families which may include 8-10 people each. Many do not have private bathrooms and families must use the public facilities. The family was incredibly kind to us and provided us with a wonderful lunch. While we were there, grandma and grandpa, came by for a meal as well so we sat in the same room at different tables and ate. I felt a little uncomfortable at one point when I saw the meal we were eating versus the one that the family was sharing. Obviously, we had paid for our food, but still it was kind of awkward.
Pearl Market: kind of like the gold mart in LA, except just 2 floors in one building. I guess there are other pearl markets as well. The pearls were beautiful, prices varied wildly based on quality, but we decided to wait until Guangzhou. I'm not really sure if that was a good idea or not, we'll have to see.
Peking Duck dinner: let me just say, we have eaten so much food while we've been here. We'll probably be the first people to go to China and, even with the miles of daily walking, gain weight! I know some people are concerned about the food but, so far, we've had no problems. With few exceptions, the food has been delicious! Cecelia really baby's us too by going in to each restaurant, reading through the menu with us, and then ordering for us. She's gotten to know our tastes very well-- we like it spicy!!!, no peanuts and lots of vegetables. The Peking Duck was great and not as greasy as I thought it would be. Strangely, with all the Chinese food I've eaten in my life, Peking Duck has never been included. Cecelia assured us that although there are a few other more famous duck places in BJ, the place she chose for us was the best. It really was pretty good.
Acrobat Show: OK, by this time of the evening, I was exhausted. The show was wonderful --seriously, some of the things that those young performers did with their bodies probably really shouldn't be done. Unfortunately, I was so tired I actually started to doze off a few times and Bobby had to nudge me. The only really funny part about the show was one particular portion of the performance done by a group of about 10 young men. The acrobatics were awesome but their costumes consisted of these shiny black leotard gladiator-type things. Their legs were bare and they wore yellow headbands reminiscent of the 1980's Olivia Newton John music video to the song "Let's Get Physical". Honestly, it made that part of show look like a surreal version of a gay male review. I couldn't help but giggle a little.
We then we returned to the hotel where we were so exhausted from our big day we literally fell into bed. Zzzz…
Freezing in front of the Forbidden City:
The emperor's throne: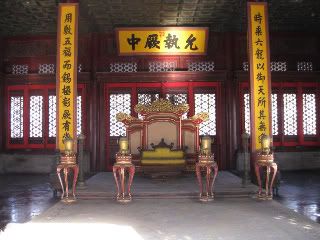 Us by the lover's tree: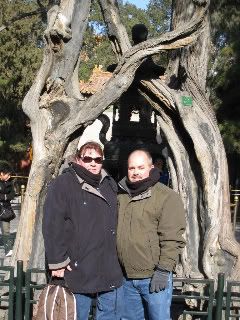 Us on pedicab in Hutong: